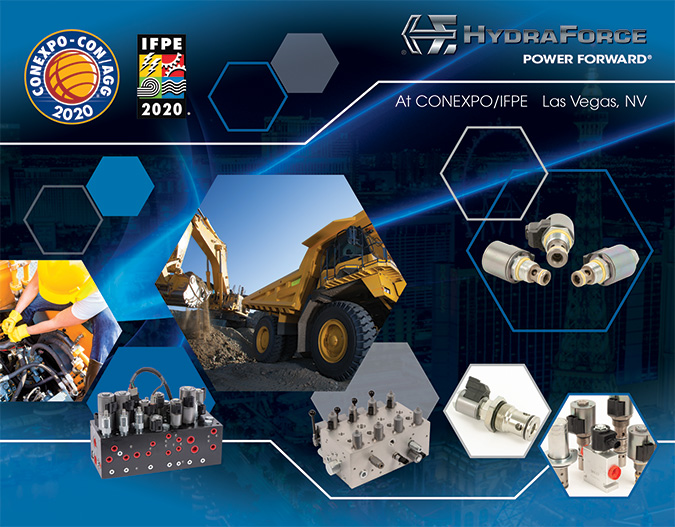 HydraForce Brings MORE POWER to You
At IFPE/CONEXPO-CON/Agg
Get more power and control from your construction equipment by starting your visit to CONEXPO at the HydraForce booth. We're showcasing the smartest new cartridge valve technology to maximize the power of your hydraulics.
Join us in Las Vegas on March 10-14 for the 2020 International Fluid Power Exposition, held in conjunction with CONEXPO-CON/AGG. The focus is on new electrohydraulic fluid power designs and solutions for construction and mining equipment, including asphalt, aggregates, concrete, earthmoving, lifting, utilities and more.
HydraForce booth S80431 will be located in the South Hall 3 and will feature:
New Hose Burst Valve - A new electroproportional pressure control valve with an integral check that protects your hydraulic system in the event of a hose rupture or burst,
New SF Solenoids – A new family of high pressure, low fl­ow hydraulic solenoid valves for low leakage blocking and load-holding,
New Multi-Functions with Feedback – Several new multi-function valves with various types of feedback devices to provide continuous control of your hydraulics
Demonstrations of IoT technology for mobile hydraulic equipment, featuring the new HydraForce ERAU-6200 Remote Access Unit with Globe and Gate powered by Epec.

More Power To You!

Save 40% on admission to IFPE by registering online by January 17.
For details visit the CONEXPO/IFPE site link: https://bit.ly/37Rqjja and use
Promo Code: EXuduve8CST


HydraForce Booth on Floor Plan
See HydraForce at IFPE/CONEXPO
March 10-14, 2020 | Las Vegas, Nevada USA
We look forward to seeing you at the show!