HydraForce to Participate in Bauma-China 2018
"Our Competence, Your Innovation" is the theme for Bauma China and HydraForce will be there, showcasing our most innovation-inspiring electrohydraulic products for construction, mining and material handling equipment. The show runs from
November 27-30 at the Shanghai New International Expo Center, and draws 190,000 visitors from 150 nations.
HydraForce will be one of 3,000 exhibitors at the Fair, and will feature our most innovative, energy-efficient and space-saving hydraulic control solutions for the construction and mining equipment markets, including:
PbS Pressure-balanced Suspension for compact wheel loaders, skid steer loaders and loader-equipped tractors,
Torque divider valves to provide smooth control of torque for dual motor applications,
Custom hydraulic manifolds with electronic controls,
Innovative multi-function hydraulic cartridge valves for fan control, flow control, pressure unloading, and pilot control.
i-Design 5 software demonstrations will show how to speed up the process of hydraulic circuit design, with built-in libraries of ISO graphic symbols for solenoid, proportional, directional, flow and pressure control valves, cylinders, pumps and motors.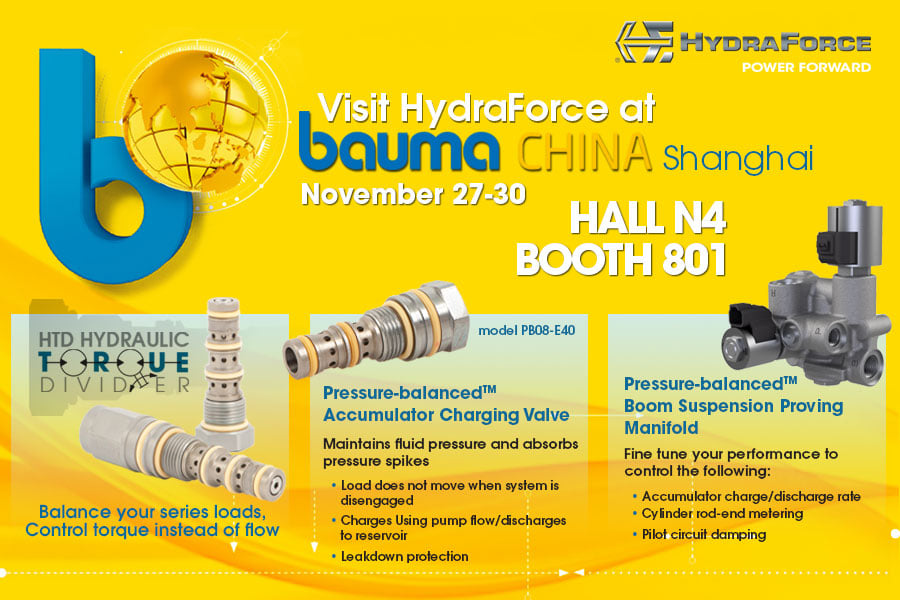 See HydraForce at
Bauma-China 2018
November 27-30, 2018 | Shanghai, China
Hall N4 Booth 801
We look forward to seeing you at the show!